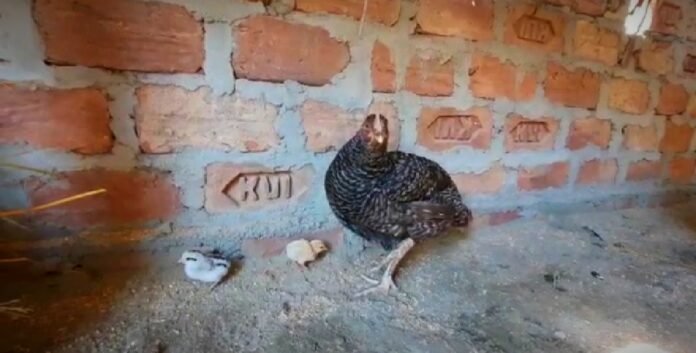 All have heard the classic question 'which came first: the chick or the egg'. But in a rare incident, a hen literally gave birth to four chicks at Jangalpara village near Tangla town in Udalguri district of Assam.

The hen delivered the chicks at Jangalpara native Dipak Sahariah's home out of which two survived. On knowing the incident, many people came to his house to see the hen and chick.
The hen is an Vanaraja breed developed by the ICAR -Directorate of Poultry Research, Hyderabad in the poultry owned by Sahariah family.
"The egg must have hatched inside the hen's reproductive system after which it might have got struck in it. The natural hatching process, which takes around 21 days, might have taken place inside the bird's reproductive system. However there were no shells and blood in the chick's body , "said a poultry rearer of Udalguri. "Although it seems unbelievable it is a very rare incident and I have never come across such incident and genetic reasons might be there as birds and mammals share common ancestors " said Center for Wildlife Rehabilitation and Conservation (CWRC) Veterinarian, Dr. Samsul Ali.
With inputs from Shajid Khan, Udalguri
For more stories follow our page Times of Northeast on Facebook, Twitter, Instagram, YouTube, LinkedIn, Koo
Visit our website https://timesofnortheast.com
Times of Northeast is an independent digital news platform which seeks to grab the attention of rational-minded people from Northeast India.