Pathsala, popularly known as the educational hub of Assam once again won laurels in the field of education by bagging top seven positions among the top ten ranks in the HS Examination. Among the rank holders, 3 from Anundoram Borooah Academy, 4 from K K Handique Jr. College in the top rank list.
Abinash's dream comes true this time as he has shone HS Science stream 1st position among the toppers of the H.S. Examination 2020 conducted by AHSEC in Science Stream.
He missed the topmost position in the HSLC examination by a narrow margin two years ago and placed in second place. He secured 486 marks. He secured English-94, MIL-98, physics-99, Biology-97, Math-85, and his percentage is 97.2%. As soon as the result broke out despite heavy downpour people of the various part of the locality thronged at the residence of Abinash Kalita's residence situated at the Maripur Anandapur village of the Bajali subdivision under Barpeta district. He appeared from Anundoram Borooah Academy Pathsala. Abinash wants to be a physician in future to serve the society. He said that the way may be different some people may choose different ways like an engineer, teacher etc but the main aim should be to serve the society from the heart from different professions.
Abinash regularly carried out his studies and he spent 6-7 hours daily during class time and during the holiday he spent 10-12 hours daily. He also said that though his main inspiration behind his result is his parents, the immense support of the Rector of the school Dr Ranjit Deka like a parent and the teachers besides well-wisher care fueled him to crack the result. Abinash reads regularly the Assam Tribune and his poem also got published in the newspaper. Besides his study, he is a good artist too. He painted several attractive paintings that are decorated on the wall of his room. Being a meritorious student he earlier got the first position in Jigyas Talent Search Examination, Moushak and Northeast topper in the Ajmal Talent Search Examination.
His grandfather Bhadreswar Kalita and grandmother Debeswari Kalita danced in joy in the verandah of the residence and said they found no proper words to expresses their happiness. Abinash's father Nirmal Kalita who is serving in a venture HS school named Bidyabhawan Nityananda expressed happiness at the result of his son and said that though economical problem is in the family he left no stone unturned to guide his son from his childhood to be a good citizen in future. He got help from well-wishers and carried out the study of his lone child. Niva Kalita was seen jubilant at the situation and said to this reporter that they never pressurized
in his studies but sometimes they feared for any physical problem due to continuous study so they even control him in study safely.
Dr Ranjit Deka Rector of Anundoram Borooah Academy expressed happiness at the result of the institution. He said the student of his institution Manoj Swargiary in 2009 also bagged the first position in HS Science stream who is presently working as an IPS officer. When asked about the secret behind the continuous success, he replied that the institution takes extreme care on clearing the concept of the subjects with proper planning. The collective effort of the guardians' students' teachers is the only key behind success. He also added that students of the Anundoram Borooah Academy Pathsala also shows brilliant performance in the engineering colleges, Delhi University, IIT and other leading institutions of the world. Some of the students have already cleared IPS and ACS. He gave the credit to the people of the entire Bajali Subdivision for providing an atmosphere in the Pathsala to make it as an educational hub.
Three students in total bagged top position in the HS science stream examination, 2020 from Aundoram Borooah Academy. The other two Nibir Deka shone in 4th position and Kunal Talukdar in 10th position. Nibir Deka also got 5th position in HSLC examination in 2018. He is the son of Promod Deka Asstt. Teacher of Bangaon HS and Pranita Haloi Deka a housewife of Pathsala town got marks subject-wise as in English-88, MIL-96, Physics-99, Chemistry-98 Biology-98 Math-96. He got 95.8 percentage. In future, he wants to be a physician. He studied regularly an average 8 hours a day and he also read magazines and newspaper.
Kunal Talukdar from the institution shone in 10th position in the HS science stream with total marks 473 with 94.6 percentage. He got 86 in English, 93 in MIL, 98 in Physics, 98 in Chemistry, 98 in Biology and 87 in Mathematics. He is the son of Jintu Talukdar and Gitanjali Talukdar of Titka, Pathsala. His father is a businessman by profession. He also dreams to be a physician in future.
Abinash Kalita and Nibir Deka also got State highest marks in Physics and Dhanyaparna Nath got state highest mark in History from the institution. So far from the institution which established in 2004, 6 students have cracked positions in HSLC examination and 16 students got rank in HS Science stream, 12 students in Arts stream and 1 in Commerce stream all total 35 students got rank in the examinations.
Meanwhile, Krishna Kanta Handique Junior College one of the premier private institutions of the Pathsala town also shines in the HS examination result with the brilliant performance of the students. Three girl students got a position in Arts stream while one student got a position in HS Science Stream. Jusmita Goswami got 3rd position in Arts stream with total marks 473 (94.6%). She secured 91 in English, 97 in MAAS, 94 in Economics, 97 in LOPH, 94 in POSC, 85 in EDUC. She hails from Rangia Balisatra. She is the daughter of Ratneswar Goswami a teacher by profession and Parulmani Goswami a housewife. She wants to be an administrative officer and after the HS she will carry out studies in BA- LLB integrated stream under Gauhati University.
Alismita Sarania bagged 8th position in HS Arts with total marks of 468 (93.6%). She hails from Paschim Athiabari of Baksa district. She is the daughter of Laksheswari Sarania and Rima Sarania. She secured 90 in ENGL, 95 in MASS, 98 in LOPH, 91 in POSC,94 in EDUC, 85 in SANS. She wants to be a lecturer and will carry out studies in Cotton College.
Chandrika Kalita bagged 10th position in HS Arts stream with total marks of 468 ( 93.6). She hails from Goalpara and daughter of Bhupati Kalita and Pranita Das. Her father works in an insurance company and she dreams to be a good administrative officer or lecturer.
The fourth one Abhijit Choudhury bags 10th position in HS Science stream with a total marks 473 (94.6). He hails from Barbang Kacharibhitha near Pathsala town. He is the son of Bhabesh Choudhury a teacher by profession and Pranita Choudhury. He secured 93 in ENGLS, 90 in ALTE, 98 in PHYS, 94 in CHEM, 86 in BIOL, 98 in MATH. In future, he wants to be a scientist after carrying out studies under Delhi University. Though his favourite subject is Mathematics he will opt for Physics. His hobby is reading magazine, newspaper especially The Assam Tribune. He studied up to 8-9 hours a day for achieving the result.
Dhiraj Sarma, coordinator of the intuition expressed happiness at the brilliant performance of the students which is an outcome of collective hard labours of the students and teachers of the school in guiding like a shadow. Till now with the institution which is established in 2006 has bagged 25 top positions in Arts and Science stream. The average result of the school is very good. Five students from the school bagged state highest marks in Physics 99 each. Deputy Commissioner of Barpeta Munindra Sarma visited Pathsala to greet the students and institutions and extremely delighted at the performances of the students and wish that they can mould them as a true citizen of the nation and contribute significantly to the nation in future.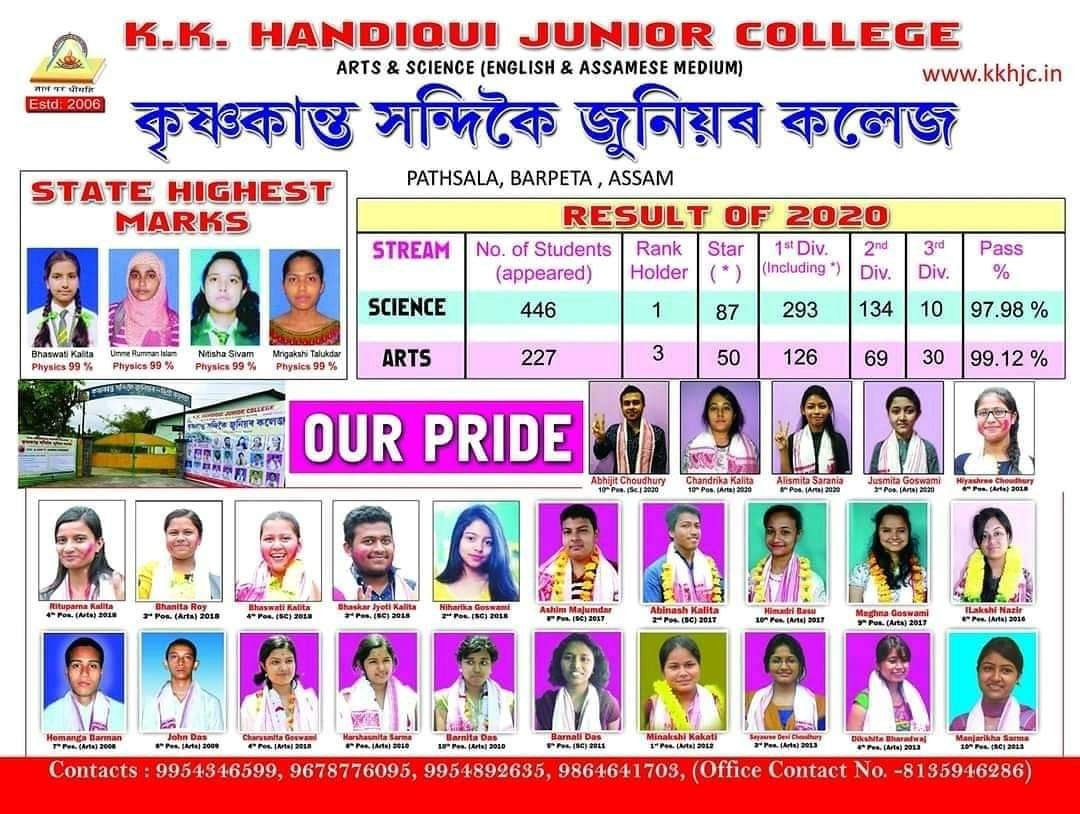 Meanwhile, the jubilant students and staff of both the colleges today restricted from celebrating the victory by taking out procession due to the prevailing situation of the outbreak of COVID-19. They celebrated the victory by bursting crackers and distributing sweets. Some of the staff and students of the Krishna Kanta Handique Junior College played with " abir" (phaku) to celebrate the victory. Peoples from various walks of life visited the institutions and greeted the students at their brilliant performance. Nagen Choudhury Bajali BJP President, Phani Pathak State Executive Member BJP, Mridul Talukdar from Bajali Zila AJYCP, Samudra Patgiri from AASU, Kamal Kumar Medhi spokesman from APCC, Giridhar Choudhury senior advocate and president of the Pathsala Bazaar Committee, and several organizations of the locality greeted the students for bringing glory to the educational hub of the state Pathsala.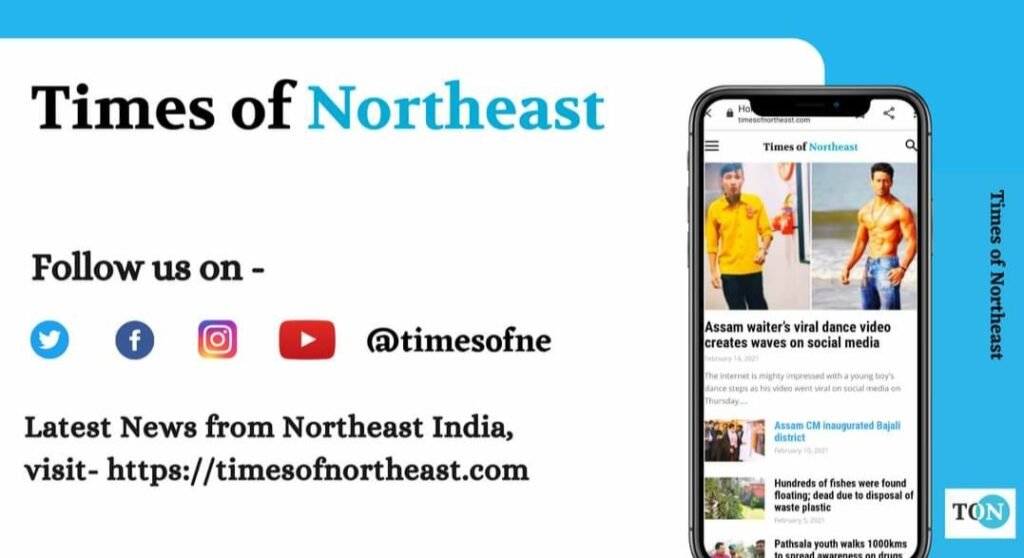 For more stories follow our page Times of Northeast on Facebook, Twitter, Instagram, YouTube, LinkedIn, Koo
Visit our websitehttps://timesofnortheast.com