Amid the second phase of nation wide lockdown when people are glued to the screens of their digital gizmos to beat the boredom of the lockdown, and social media is abuzz with photos and videos of people confining themselves in their residences,
a heart warming video of two children from Nalbari district of Lower Assam performing on a popular Assamese love song 'Ei Hahi Bhaal Laage' is being widely shared on social media and is winning hearts.But the wow-factor in it is the fact that the duo performed the song using a makeshift drum kit.
While the girl sings the song, the boy performs on a makeshift drum kit made up of cardboard boxes, packaging material, banana tree trunks, bamboo and a metal tray.
The broadcast starts with the girl saying, "Namaskar, we are going to do 'timepass' by singing". She then begins to sing the popular song by singer and former All India Radio artiste Nasreen Halim from Dibrugarh whose lyrics was written by Hemanta Dutta.
In the song, the budding talent professes their love for an unknown entity.
The first few lines 'ei hahi bhaal lage, kiyo jaanu bhaal lage' can be translated to 'I like this smile, but I do not know why I like this smile'. The singer further goes on to ponder why she is singing, and for whom she is singing — but it gladdens her heart that she is able to to do so. "Ei morom kaar baabe? (Who is this love for)," she asks.
The performance by the children broadcasted from a Facebook account Rupali Pranamita have received a positive response of netizens and has been shared by 13 thousand plus users and liked by 14 thousand users in Facebook and a lot of people praised them for their creativity and inquisitive mindset.
Another performance on immortal Assamese numbers 'Phul Phulise Boxontat ' and 'Moina Kun Bidhataai Hajile' that has been doing rounds in the social media are by Nandy sisters – Antara and Akita Nandy performing on the occasion of Rongali Bihu in Youtube which has crossed 34 thousand views in three days.
The duo presented a 'Balcony Bihu Concert' on the first day of Assamese New Year in the YouTube channel 'ANTARA NANDY'
Playing Ukuleles and drapped in blue and black coloured traditional mekhala-chadors, Antara and Akita Nandy performed on the balcony of a home.
Antara Nandy in her twitter handle @AntaraNandy tweeted,
"Bihu is a spirit – We can stay home and yet enjoy Bihu by spreading positivity in our own way – here's ours! Sending loads of love from Pune to all our Assamese Listeners !"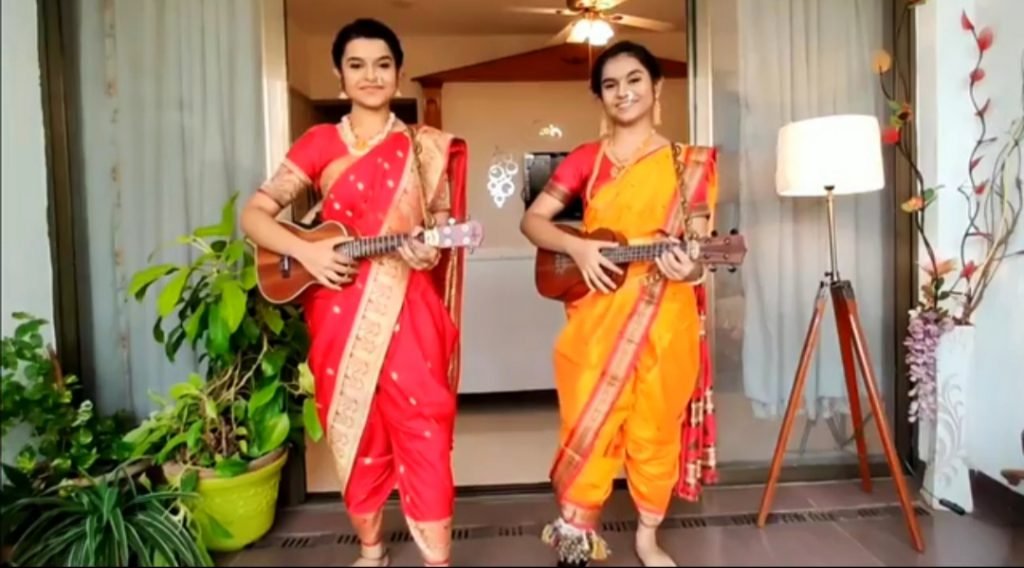 Complementing for their performance Assam Health and Finance Minister, Himanta Biswa Sarma on his Twitter handle @himantabiswa tweeted,
"After a hectic day, it is refreshing to hear this Soulful Bihu from Antara and Ankita Nandi -Phul Phulise Boxontot | Moina Kun Bidhataai | Nandy Sisters | Bihu Balco…" (sic) while sharing the link of their performance in YouTube.
watch video performing during COVID-19 lockdown
For more stories follow our page Times of Northeast on Facebook, Twitter, Instagram, YouTube, LinkedIn, Koo
Visit our website https://timesofnortheast.com
Times of Northeast is an independent digital news platform which seeks to grab the attention of rational-minded people from Northeast India.