Ph. D programme in six disciplines namely Assamese, Chemistry, Geography, Physics, Mathematics, and Zoology were formally launched in Bhattadev University in connection with the celebration of National Science Day today in the University premises.
Prof. Mihir Kanti Choudhury, Honourable Advisor, Education, Govt. of Assam and the Chief Guest of the inauguration ceremony started off the programme by lighting the ceremonial lamp.
In his inaugural speech, Prof. Choudhury paid tributes to Sir C. V. Raman on the occasion of National Science Day and called upon young researchers to imbibe his dedication, perseverance, and confidence in research. He also advised both the Supervisors and Scholars to emphasize more on qualitative research rather than quantitative aspects. He urged the scholars to make optimum use of the available academic and infrastructural facilities of the university to carry out their research work. He also advised the scholars to emphasize more on the ethical aspects of research like staying away from plagiarism. In the next interactive segment of his speech Prof. Choudhury dealt at length on the main thrusts of New Education Policy, 2020 highlighting its implementation aspects.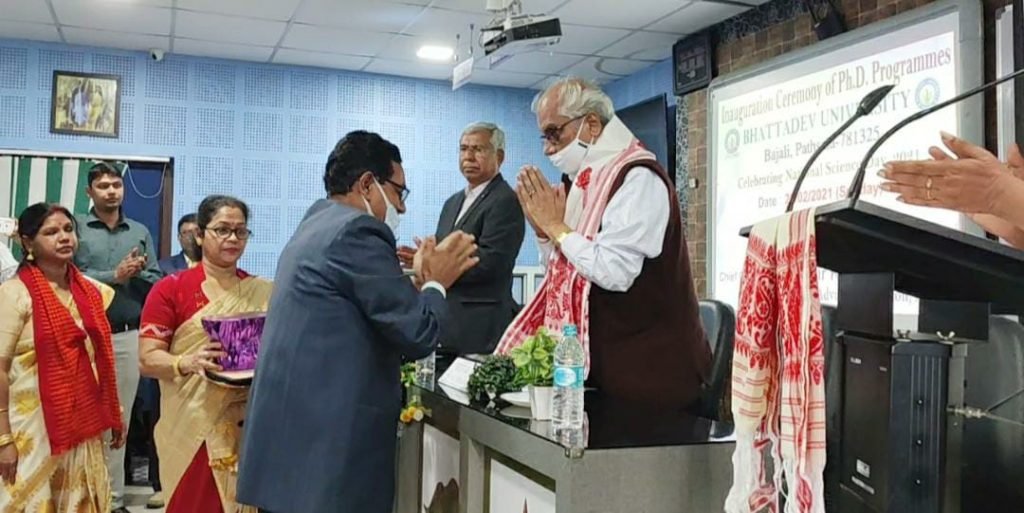 The programme was attended by Prof. Pranab Goswami, Department of Bioscience and Bioengineering, IIT, Guwahati. Prof. Madhurya P. Bora, Dept of Physics, Prof. Rita Choudhury, Department of Mathematics, Prof. Anup Saikia, Department of Geography, Prof. Taranee Deka, Department of Assamese, and Prof. Pradip Phukan, Department of Chemistry, all from Gauhati University spoke briefly as guests of honour and later provided guidance to both the new supervisors and the research scholars in an interactive session.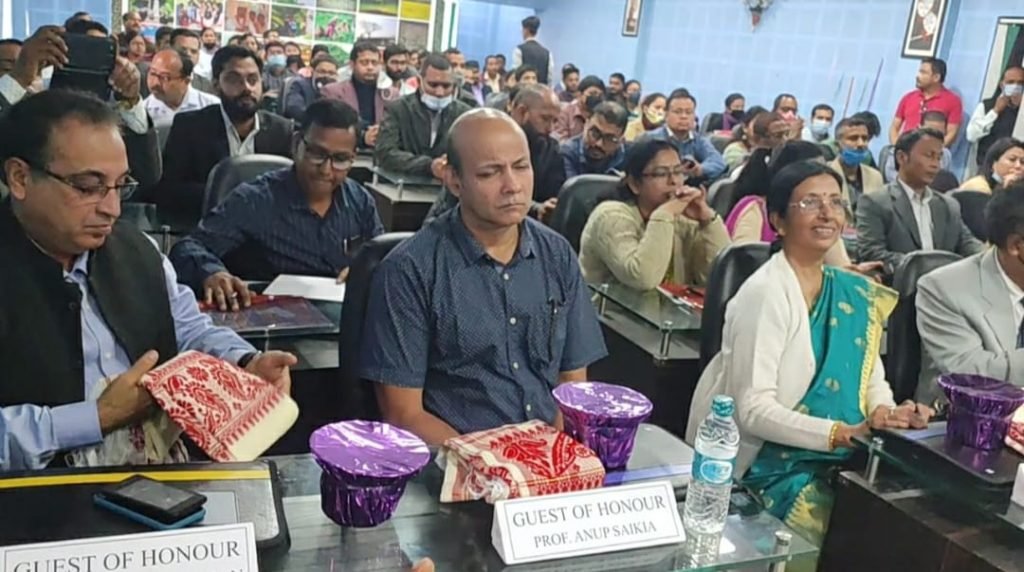 The Inauguration Ceremony began in the Digital Conference Hall at 11 am with the recitation of SanskritMangalacharan' by the students and teachers of the Sanskrit Department of the University. Prof. Birinchi Kr. Das, Honourable Vice-Chancellor of the University chaired the programme. Prof. Das interacted with the invited guests with regard to different plans for the newly introduced Ph. D. programmes at the university. He elaborated how Bhattadev University conducted entrance tests for Ph. D. programmes on January 3 this year and subsequently 46 scholars in six disciplines from across the state were admitted into the research programmes.
Dr. Binita Bora Dev Choudhury, Associate Professor, Dept. of Assamese, Bhattadev University extended a vote of thanks to the dignitaries and all others present at the end of programme.
For more stories follow our page Times of Northeast on Facebook Visit our website https://timesofnortheast.com
Times of Northeast is an independent digital news portal which seeks to grab the attention of rational-minded people from Northeast India.
Advertise with us, contact- editor.timesofne@gmail.com